So I've been looking into options to earn a little extra money from home.
Don't we all?
If we have the time on our hands, why not use it to our benefit...to our family's benefit.

All of the stuff I'm finding doesn't really pay a lot, a few pennies here, a few pennies there....maybe a dollar or two thrown into the middle.

But it's more than I had before, right?

So why not?

One program that I've already been using before is YouData.com.

All I have to do is look at an ad and then click on it and let it load in my browser window.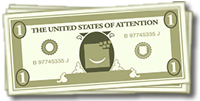 And I get a little bit of money for it.

Money. Not points. Not entries for a grand prize. Real, actual money that is deposited into my PayPal account typically within a week of earning it.

Granted, they don't always have tons of ads for me to look at and I usually only get about 50¢ a week, but that's something more than I had before. And the more people that sign up, the more ad companies will become aware of it and the more ads that will be available to look at.

So I'm throwing this out there for any of you who are interested in earning a little bit of extra money, it doesn't always pay a lot (I have earned around $10 in one week before, though), but it has the potential to grow and gives you a very quick and exceptionally easy way to earn a little bit of spending money, bill money, or vacation money.

If you're interested, click here and sign up. If you don't mind, please enter "abrookshire" in the referral box so I can track how many people have signed up based on this blog!

I'm going to be checking out more options such as this one to earn a little more money to get me through those summer expenses (and to help out with a copay for a Tonsillectomy that looms in he future), so I'll post the ones that I think are good opportunities for those of you interested, and if you have any that you're using and don't mind sharing, I'd love to learn about them!