So I'm 16 books into The Stephanie Plum series and I can't help but notice how disappointed I am in the casting for the upcoming movie, One for the Movie.
I mean, did they even read the books or were they just given general ideas of what the characters should be? Because, so far, no one on the cast emulates what I envision in my head. Though, thankfully, they at least cast a Ranger sans the ponytail.
So if I were making the casting calls....this is who I would be looking at for some of the characters:
Stephanie Plum
First Choice:
Amy Adams
Yes, I know she's not brunette. Neither is Katherine Heigle,
but Adams has the personality and acting ability to pull off
Stephanie's quirks and she makes a better brunette than Heigle.
Second Choice:
Marisa Tomei
Joseph Morelli
Gerard Butler
Joe Manganellio
ONLY if he cuts all that hair from True Blood
Runners-up
Josh Duhamel (too pretty though)
Ranger
Jesse Williams
Ranger was the hardest for me because the books
have him at such a level of perfection and sexiness
and all the men that truly epitomized the characters
in the books were absolutely no one I would actually
want to see portraying the character. Jesse Williams
is as close as it gets for me.
Lula
Rutina Wesley
Thinking outside the box for a second...
when I read Lula's lines in the books I
hear it in my head in Rutina Wesley's voice
a la Tara Thornton. She's obviously not a
large sized woman, but with makeup and some
body enhancers, she has the attitude and
personality for the part!
Grandma Mazur
My first choice would be:
Estelle Getty
(Sophia from The Golden Girls)
But since she's obviously not available for the role, second runner up would go to the obvious best choice:
Betty White
Benito Ramirez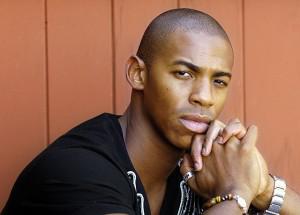 Mehcad Brooks