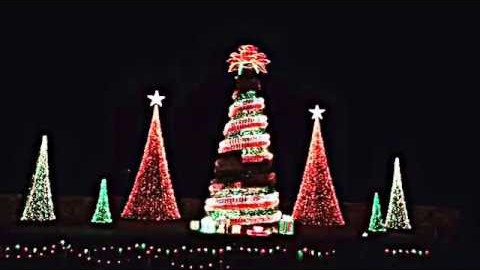 Last night our family made a trek across town to visit
Garvan Woodland Gardens
to enjoy their Holiday Lights show. We were especially excited about this visit because I received a new shipment of
Holiday Specs 3D Christmas Glasses
to test again this year.
If you'll remember,
I had the privilege of testing these fun glasses last year
, too, so when I got an email from the company asking if I wanted to try out some of their new specs, my immediate answer was "Of course!" But this year, I knew we needed to go bigger. And I'm so glad that we did!
When American Paper Optics sent us kits to test both this year and last year, they hooked us up! We received more than a dozen paper spectacles, in total three pairs of plastic-framed specs (two from this year and one from last year), and even some strings of lights to test them with. Since they were so generous with us, we decided to share that generosity as well. Our family picked out our favorite designs to keep and then we shared the love to kiddos at the gardens as well so that they could enjoy the lights in a whole new way.
Kids "lit up" (punny, no?) as we stopped them to give them a set of spectacles and show them the magical transformation from regular Christmas lights to a string of snowmen or reindeer instead! I'm not sure which was more fun, testing the designs out for ourselves, or seeing the wonder on the little faces as kids experienced it for the first time.
Our littlest one was quite impressed with them, too!
And The Husband made sure to give me a "wow" shot with his glasses, as well!
But seriously, these spectacles are so much fun! While it's hard to capture in pictures (especially in dark conditions when you're shivering and trying to hold your camera, the spectacles, and a much needed cup of hot chocolate, they just transform the scene into something fun and fantastic!.
The Snowmen Glasses
The Candy Cane Effect
And for anyone who thinks that money doesn't grow on trees...I have some Holiday Spectacles that prove otherwise!
My Banker Husband said that these spectacles most convey to him what Christmas means.
And for ease of picture taking, I did have to snap a few shots without the spectacles. Apparently the auto-focus on my camera doesn't play well with others. And apparently I am not the photographer that my mom, sister, and my boss are!
But pictures are never quite as breath-taking as real life is anyway, so at some point you have to put down the camera, and enjoy the sights, sounds, and people around you.
Speaking of those people, wanna see their face light up? Grab some
Holiday Specs
(especially for the little people in your life) and take them on a holiday adventure that will truly stand out!
Merry Christmas from our crazy family!