Okay, so I'm having a challenging time trying to come up with blog ideas and things I want to blog about because all of the other blogs I read are about these parents or single parents who live this great and interesting and adventurous life.
And then there's me.

I work at a jail and while I can leave you splitting your sides in laughter over tales of strip searches and fantastically stupid stories of brainless criminals, I have no tales of a social life that can be told. Because while I lead a life that's wonderfully exciting to me, it's just a simple little life of getting up in the mornings, getting ready for work, waking my boy up, getting him off to daycare, spending 8 hours in the company of cops and criminals, leaving, getting my boy from daycare, fixing supper, surfing the net, and squeezing in whatever adventures can be had before it's bath and bedtime.

That's my life.

There is no man in my life.

There certainly are no men in my life.

It's just me and my son.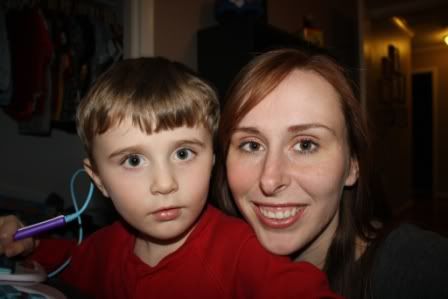 And I'm happy with it that way, the only thing I wish I had were these great and interesting tales to tell you about a guy that I could be seeing or guys I could be choosing between or friends that I go out with or have a book club with or....well, anything.

But it's just me and Ty.

And I'm okay with it.

I just hope that my readers are, too.