Romantic love hasn't been a constant companion in my life the past few years. It's never been a regular visitor, in fact.
After my broken engagement and canceled wedding I found myself completely and 100% a Single Mom.
Automatically, my mind went to my son's
genetic donor
. Surely I owed it to my son to try to date the man that unintentionally helped create my greatest blessing.

So I went in that direction for a while, only to land on my face and realize that he and I weren't compatible at all in a romantic aspect, although I have suspicions he might make a pretty decent life-long friend.

When I saw how pointless that was, I would consider another guy or another guy or another.

Except it seems that my taste in men isn't what it should be. Either that or my town has absolutely nothing decent to offer me at this point. Both are likely.

One guy has wandered in and out of the picture several times, trying to convince me he's this great and wonderful person while he fills my ears with all these little lies. Then others would come along and I just know up front that it's not going to work, why waste my time? I've had love, I've had romance (although very little), and I've had someone I'm comfortable with before. But now I want all of those in the same person, and a little passion and chemistry would be great, too. These guys were total princes, they just weren't my prince.

But the last three years of my life have been romantically stagnant. I've had guys play me, I've had guys lie to me, I've had guys inform me their intentions were solely physical (and he acted surprised when I asked him to leave!). I've had guys treat me every way but right.

So, for the last year or so I've been teetering right on the edge of giving up. Completely. I doubt I'll ever be able to truly give up, though, because I honestly believe that if God gives me this emptiness in my heart, He will fill it. Just as He had before.

You see, in 2004, on a flight to Paris with my mom and dad and my sister and her husband, I took a quick inventory and realized that I was going to the City of Love with two couples and I--as always--was alone. So I prayed that if it was okay with God, I'd like to at least be close to having my own family within a year.

I thought that I was praying for a man. A grown man.

But my prayer was answered in the form of a wrinkled little baby boy that came the following July. What can I say? I prayed for the great love of my life, and I got him.

But I'm just still praying for the one who will take second place to Ty. Because, let's face it, he

will

always take second place.

So I can't give up on love because I know that, eventually, it will happen. But in the meantime, I like to console myself with wish-listing.

I'm such a girl.

I can't afford much shopping because I'm sole provider for my little family, so I wish-list and I accumulate a million bookmarks of things that I would cook when I can afford an elaborate grocery budget, things I would wear when I can afford the style of clothes that I have my heart set on, the perfect shoes for those outfits, and the right jewelery.

Ahhh, jewelery.

I assume it's every girl's downfall, because it's definitely

this

girl's downfall.

But as a budget shopper, I like stores like emitations.com, inspiredsilver.com, and of course amazon.com.

I (heart) Amazon.

But while I was wish-listing, I stopped first at Cartier and found the ring. Sure, it would be Ring #2, but it would be

the

ring. This one would be final.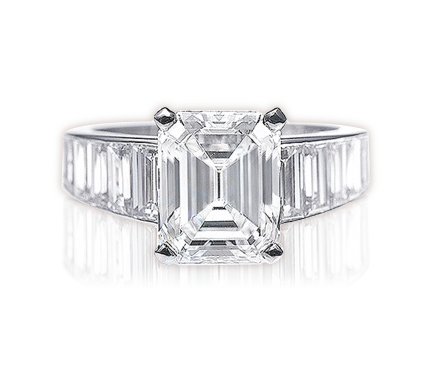 Stunning, no?

The kind of man to give me a ring anywhere near that beautiful would have to be totally in love with me and my son, totally committed to me and my son, one hundred percent completely devoted to us.

Or he wouldn't dream of it, right?

Well, I was wish-listing one evening and I found another ring that I just so desperately want.

You see, I've come to really and truly wonder if me finding The Man I'm going to marry is going to happen before or after pigs fly. That's been my thing for a couple of years now.

But while wish-listing one day, I came across another ring and knew instantly that I wanted to wear that ring on my wedding day because it just fit where my heart is right now about love and finding a good guy.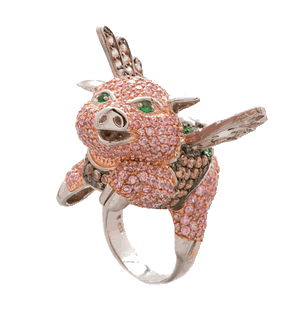 So I decided that he, whoever he turns out to be, would have to buy me this ring as a promise ring. If he buy me this ring just to see how it would make me smile....yeah, that's the kind of guy I dream about.

Except, I've been dreaming about finding that kind of guy for a year now and I still am no closer to my little piggy ring..

So I think I'm going to have to suck it up, save some pennies, and get my little piggy for myself someday, and then when Prince Slow-but-Charming comes along and the time is right, he can buy me just the one other ring.

But that's the kind of guy I dream of. And I know that I have to be realistic, but I also know what I deserve. I could probably get past it if he's not 6' tall or taller (my most superficial desire in a man as I grew up around taller men and feel more secure around taller men). But I do need someone who will sweep me off of my feet. I do need someone who will occasionally go an extra mile to make me smile or to show me he's not like these guys that I've wasted years on. I do need someone who will be a

Daddy

to my son, because a Daddy is just so much more special than a father. I need someone who doesn't mind letting me spoil him in return, too, because face it, a guy that great would deserve a little spoiling, too.

So my hopes are up in the air. But that's okay because that's where they should be, it gives me room to build a foundation beneath them.