I know that most of my readers here aren't from around my area, but that's okay. I still want to share this blog with you because.....well, the place I want to talk about is pretty awesome.

We recently had a little restaurant open up on Main Street here in Fordyce called Betty Taylor's Kitchen.
When I first saw the signs that something was going to be put into the empty building, I had no clue what it would be. It was this catchy little black and white sign with a diagram of a cow on it that shows the different beef cuts. Kinda like the one to the right, except I don't like this one as well as I like theirs.

So I wondered if it was going to be a butcher shop or an all-beef restaurant or what.

And then it opened. And I noticed twitters about this new place.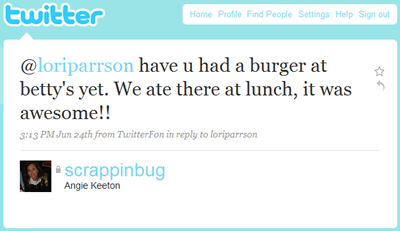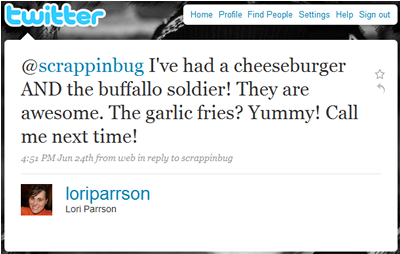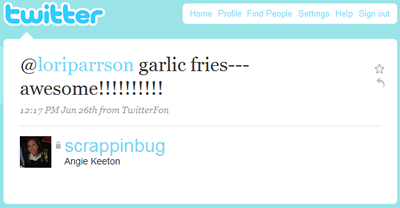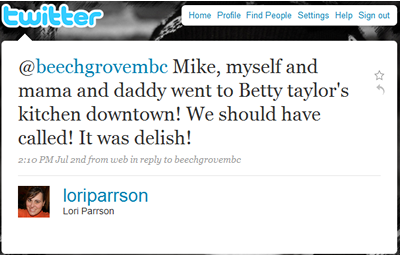 So when my mom called me one Saturday morning for some girl time over lunch at this new restaurant, I didn't hesitate!

Off we went and I was so very pleasantly surprised the instant I walked in! The whole experience was so unique and creative, which isn't something we're exactly used to here in Small Town, USA.

We walked in and sat down and I just couldn't keep my seat. There was too much neat stuff to look at. Most of the decorations are older items. Lunchboxes that take you back to childhood. Old ice-cream boxes that our parents were probably all too familiar with in their childhood. The light covers in some areas are made out of tin cans from old household products. It was so creative and so clever and so interesting.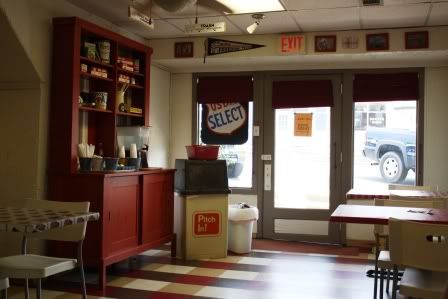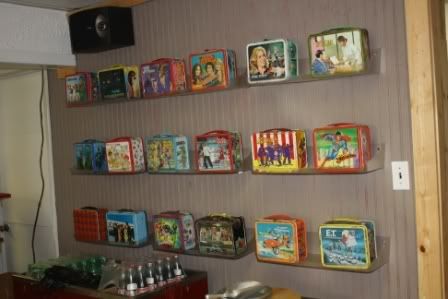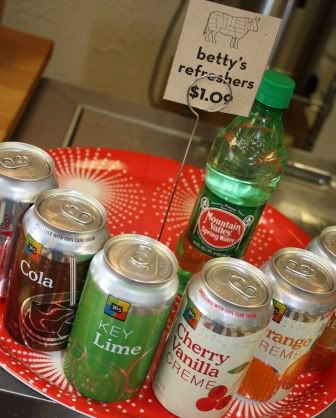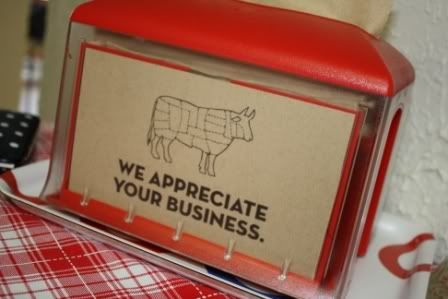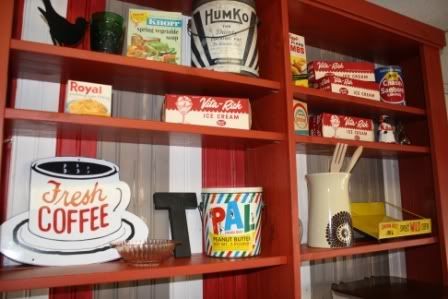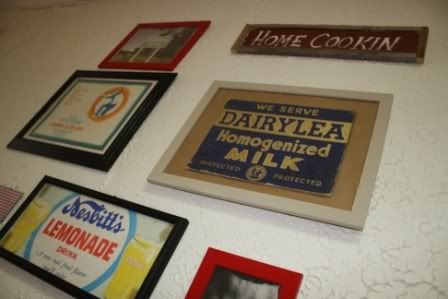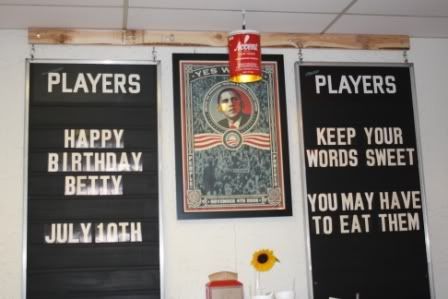 The drinks they serve are all made with cane sugar instead of high fructose corn syrup. Not that there's anything wrong with HFCS, in my opinion, but the cokes are unique and add to the experience and separate the restaurant from others, which is a great thing!

And their menu, which appears small at first, is by no means limited. At first glance you think it's just only a burger and fry kind of joint. Same song, second verse, right? But then you see the difference. Sure, they offer a hamburger and cheeseburgers, but they also have a sandwich called The Buffalo Soldier.

Uh-maz-ing.

Of course, I--being ignorant of many aspects of our American Heritage--had to ask where the name came from and how they got the idea for the sandwich. Tommy, a member of the very sweet family that runs Betty's Kitchen (named after his grandmother Betty), explained to me that they just kind of threw the sandwich together and were looking for a name that gestured towards the barbecue sauce they made for it, but also had a symbol of toughness and their heritage.

The Buffalo Soldier came to Tommy's mind.

Now, for my Canadian readers, please know that American's aren't only ignorant of your culture and history, we're ignorant of our own, as well. I didn't know what a Buffalo Soldier was. I thought maybe it was an American Indian or something because Indians are what comes to mind when I think of buffalo (I'm from Indian country originally, too) Tommy educated me that a Buffalo Soldier was an African American soldier that fought in the Civil War.

These men fought for my country and my freedom and here I'd never taken the time to learn about them, their sacrifice, their nobility or their loyalty to our country, theirs and mine.

And thus my experience with Betty Taylor's kitchen became even more fascinating. Good food, a touch of history, and interesting design....it's an all around win for me.

But let's go back to the food.

The Buffalo Solider is the only sandwich I've had down there yet. Although I've heard the hamburger and cheeseburger are excellent, too. But I enjoy the Buffalo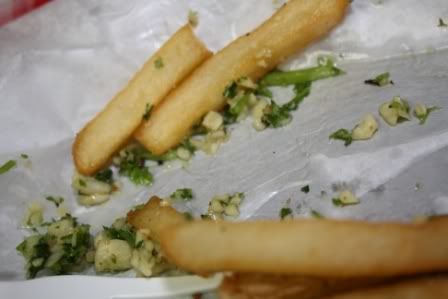 so much I don't yet want to try anything else.
The standout ingredients of this sandwich, for me, are the barbecue sauce, the onion ring, and the cucumber slices. And as far as sides....I can't decide which I like better, the garlic fries dipped in ketchup or the sweet potato fries dipped in a buttermilk ranch dressing that's made there at the restaurant.

The restaurant is also eco-minded, which is a new thing in this area. Our county doesn't even offer paper recycling. Seriously. I looked into getting a recycling bin here at work for all the paper that we throw away and guess what? No go. I am not kidding you. We are not up with the times in so many aspects, especially where things come to going green and being eco-friendly. But Betty's is. Their menus are printed on 100% recycled paper. They have a recycling station set up in the restaurant for recyclables, and from what I can tell from observation, they have put effort into being energy efficient as well.

The thing I love, hands down, the most about Betty's is the family that runs it. Aunts, Uncles, Cousins, Moms, Dads, and the kids. That's how we roll in my family, and that's clearly how Miss Betty's family works, too. I not only like that, but I respect it immensely and am glad to see a family working together with non-stop smiles.
I expect great things from this place. I really do. So if you're in town or find yourself in this neck of the woods, drop by 103 S. Main Street and experience Betty Taylor's Kitchen for yourself!