Everyone I know is in love.
Of the blogs I read, half are married and half of those remaining are in fabulous, wonderful relationships where it looks like they could quite possibly have finally met The One.
And I'm happy for them.

I'm jealous that I haven't found that same type of love, but not in an "I'm going to stop reading you because I'm jealous" kind of way, but in a "That's awesome, I want that, too." kind of way. Especially for all my Single Mamas and PaPas out there who are feeling warm fuzzies because, for us, it's a little bit harder than for non-parent singles out there who don't have to worry about schedules and child-care and the issue of how close you let someone get to your child and how soon.

I really am happy for them. Because if it can happen to them, it can happen to me. So their stories give me hope and a reason to keep on believing.

But in the meantime, I still feel like I'm living out a Love Song.

I found a love I didn't know existed.

Almost five years ago I was on a plane over the Atlantic praying, "God, if it's okay with you.....maybe this time next year I could have a family of my own....or be on my way to a family of my own at least."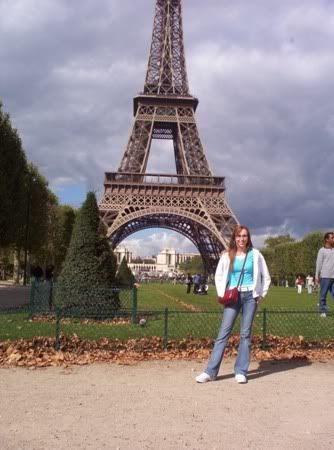 Because I was headed to the City of Love with two couples and I was all by myself.

Which brings Celine Dion's voice to mind and sends me, mentally, into song.

By that time the next year.....guess what....?

I had an almost 3 month old baby.

Sure, my family didn't happen the way I'd thought it would when I said that prayer, but it happened nonetheless. And that prayer was only the beginning of this love song.

I may not have a man in my life that I'd

planned

to have. But I do have a little man in my life that I am so very

blessed

to have.

He makes my heart swell with pride and happiness and utter joy. He has opened my eyes to a whole new world and has opened my heart to a whole new love.

So while I might not be experiencing the love and relationship that so many others are, I'm still living a love song. And I still have full faith that there I'll get to live another one somewhere down the road, too.