My day started out pretty bad.
::wrinkles nose::
I had bad dreams all night and they were so vivid that I'm having a hard time really making myself understand they weren't actually real.
But it's thrown me all out of whack.

So has the lack or organization in my kitchen, too. I hope to fix that tonight.

But something else that threw me off this morning was my laundry room.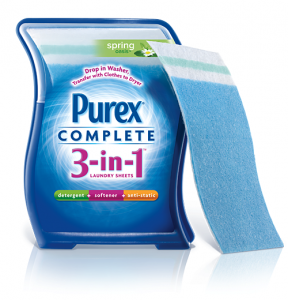 I tried those new Purex Complete 3-in-1 Laundry sheets when they first came out a few months back. (Read about it here if you like). So I tried them and I loved them! Particularly the Pure & Clean scent that I tried.

Well, our little Walmart here locally has this habit of carrying a product long enough for me to try it and like it and then they never carry it again.

So, after I used up my first 3 boxes of laundry sheets, I go to buy some more and guess what?

Nada.

I wasn't in the position to wait until I could go get some more so I fell back on Gain tropical scent I'd previously used. Meanwhile, I'd stock up on more of the Purex Pure & Clean and return to it after using the Gain up.

And I've returned to the same problem I had before I used the Purex sheets in the first place.

I smell my laundry and it just doesn't smell clean. Have you ever forgotten a load in the washer and found it a day later and it smelled soured?

That's the smell I smelled today.

Except the load of clothes went directly from the washer to the dryer as soon as the washer stopped spinning.

But they still smell like the little boy sweat that was on them when they went into the washer.

I had this problem for weeks before switching to Purex and then it suddenly vanished. Now I'm temporarily back to my other detergent and the problem resurfaces.

So I decided this morning that it's not me, it's not my washer, it's not the clothes.....it's the detergent. It's just not doing what I need it to. If the load consists only of my clothes, it's no problem. But half of my laundry is my son's clothes and it doesn't do the job on his.

But that was just something that occurred to me this morning. No real reason to blog on it, right? Laundry doesn't always equate to blogworthy.

So I went home at lunch and pulled another load out of the dryer with the same problem.

And tossed them right back into the washer.

Hopefully the dollar stores might have my Purex Laundry sheets since Walmart doesn't.

Then I came back to work to find that I've been selected as a Purex Insider.

Coincidence?

Definitely.

And perhaps a sign.

But of all the days to get that email....maybe it's kismet.

Want to try Purex Complete 3-in-1 sheets yourself? Go here for a coupon. I recommended them even before they asked me to. And I'll continue to recommend them because they do what my other detergent wasn't doing and it doesn't leave a mess of powder or soapy drips behind that I have to clean up.