My jaw just hit my chest a moment ago.
Because I'm sitting here, catching up on my blogs via Google Reader and I scroll through to find
this one
.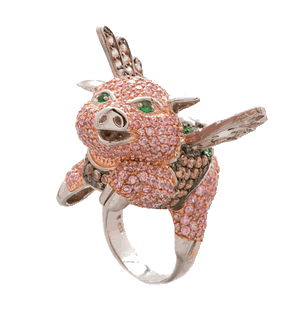 Emitations.com
(the company that gave me my dear, sweet, beautiful Fern) has marked their
animal cocktail rings
down by up to 30% (though there were a few that actually appeared to be marked down a little more than that!)

PLUS, when I went to their site I noticed that you can take 20% off of ALL animal cocktail rings by using the coupon code 'ANIMAL' at checkout.

This is a major price break, people!

My dear sweet Fern, who was originally $500 is now listed at $257.25. Take another 20% off and you're getting Fern at close to 60% off of her original price!

Crazy!

And so you know, they haven't asked me to post this. Emitations.com doesn't even realize I'm posting this. But they've done so much for me and they've encouraged me and inspired me in ways they don't even know and I

want

to give back to them.


Plus, their animal cocktail rings are beautiful and eye-catching and are so fun to wear because of all the conversations and compliments they bring out of people.

Sooo, if you've been waiting for the right time and the sweetest deal, you're probably not going to find one better than this.


Go.

Buy.

Enjoy.

Smile.

Cause Fern makes me smile

all the time

.