A month ago I went to go subject myself to the humiliation of an annual gynecological exam.

The horror of the exam alone is enough to give you nightmares, but this particular instance has been even worse after-the-fact than they typically are. And not just immediately after-the-fact (I hate that squishy feeling. I know Eve ate the apple and all, but does the the Curse of Eve have to be so all-encompassing?)
Anyway. Anyone remember this instance?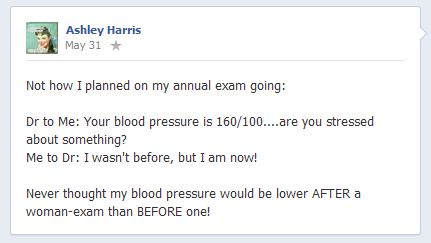 What an expensive conversation THAT turned out to be!! Because my blood pressure was high, the OB/GYN asked me to go see my PCP to get my blood pressure checked. So I made an appointment for the very next day, which I went to, paid my $30 copay, and was told to monitor and document it for the next month and come back and pay another $30 copay when I report my findings.
So, I did. Today was my follow-up appointment with my PCP (The Doctor actually providing the care for the temporary blood pressure issue). All is well and good. Case closed. "Come see me if you need me."
Except that the OB/GYN made a note on my chart that my blood pressure was elevated. So their office billed two separate visits to my insurance company totaling $385. (Note: I was there for one visit only.)

They charged my insurance $185 for the examination that I was actually there for. And then they charged my insurance $200 for a separate visit (Again, I was only there for one visit....) because the doctor made a note on my chart that my blood pressure was high that day. $60 of that bill is being reallocated to me as a specialist copay.

Because, you know, of all the doctors to see for high blood pressure, I'd choose to see a gynocologist....

And because, you know, asking me to go see my PCP to get it checked out really constitutes providing billable care or treatment.

So my expenses on this little issue are now doubled because of a note made on a chart that had nothing at all to do with that visit or any care received by that doctor's office on that date.

Needless to say, I'll be checking out other OB/GYN's in the future. Whenever we decide to expand our family someday we'll have enough bills to worry about without getting bogus nonsense like THAT thrown into the mix.
Sidenote: During the exam in the awkward conversation that you have with the doctor as you try to pretend they're not doing what they're actually doing, I commented on my dislike of the squishy stuff and she laughed and said she couldn't force herself to do the exam without it because of how horrible THAT would feel....if only her office staff extended the same courtesy.